Basic Tune Up $89
All bicycle components are inspected from top to bottom (ensuring everything is tight, aligned, and in good working order). Cleaning dirt, oil, and old grease off the bike. Shifters check and adjustment. Derailleur hanger check (alignment). Brakes pads and calipers are checked and adjusted. Minor wheel truing. Drivetrain checked for stretching or kinking. 
Deluxe Tune Up $129
Take your tune up to the next level. This service includes a general inspection from top to bottom ( ensure everything is tight, aligned, and in good working order. Shifters and derailleur check/adjustment. Brake calipers and pads adjustment. Complete cleaning of bike/ frame. Drivetrain cassette/ chain cleaning, lubrication and wear assessment. Wheel truing, check tires, hub bearing adjustments.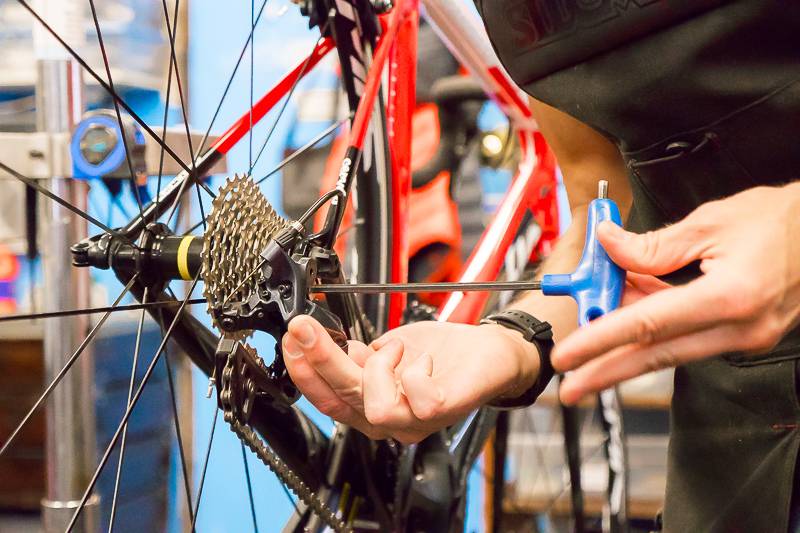 The Elora Overhaul $249  (Dual Suspension $349)
This level of service is for those that want and expect the best performance possible from their bike. This includes a complete teardown, inspecting, cleaning and reassembly of all parts. A full detail of the frameset. A headset overhaul and cleaning. Wheel truing and check tires, and hub bearing adjustments. A complete drivetrain assessment; cables, chain, cassette. Shifters and derailleur check/ alignment. Brake cables, calipers, and pads check. 
E-Bike tune up                     $149.99                          A tune-up includes all adjustments of the brakes, drivetrain, bearing systems, a basic wheel                                                                                                                                                         true,  and a  safety check on all bolts. Also, an inspection and cleaning of all electrical                                                                                                                                                                   connections.
E-bike basic tune up          $129.99                          Everything in an e-bike tune up except electrical inspection and testing. 
We do everything from installing new parts/components, wheel services (flats, truing, wheel building), suspension service/rebuilds, restoration of bicycles, fittings, resto mods, to designing and building a bike specific to your needs and wants. 
Contact us to book your bicycle servicing needs!